The United Kingdom is surrounded by more than 11,000 miles of water, so there really are plenty of places where you can experience some fun and extreme water sports when the heat is on this summer. From Cornwall's sunny shores (if you are not British, you might be surprised to hear that we do get some sun in the UK), to Scotland's dazzling lochs, Britain's coastline is a beautiful place that boasts islands, headlands, bays, and peninsulas. This means that wherever you are, you can be certain that you can find plenty of different landscapes so that you can experience something new.
Kayaking
The rivers and lakes in the United Kingdom provide plenty of opportunities for competitive and recreational paddlers, with many locations being remove, tranquil, and surrounded by some spectacular scenery. Rivers in Britain are graded 1-6, with grade 1 representing calm rivers and grade 6 representing rough rivers. If you have never tried kayaking before, then your best bet is to try it out on a loch in Scotland or the lakes that can be found in the Lake District. These destinations have peaceful waters, so beginners can concentrate on finding their feet. The peaceful waters are also great for experienced kayakers who want to cover long distances, and those who are after a leisurely kayak.
Stand-up Paddleboarding
This watersport was first practiced in Hawaii, but it is quickly becoming one of the most popular watersports in the world. It is quite similar to surfing but is a lot easier as you are standing on a long and wide board and you use a paddle to move yourself across the water. This is definitely one of the most relaxed watersports out there and is a great way to explore the canals and rivers that can be found throughout the British countryside. A great place to start is Dorset as there are spectacular rock formations and jagged cliffs that line the coast, which will provide you with a magical sea experience.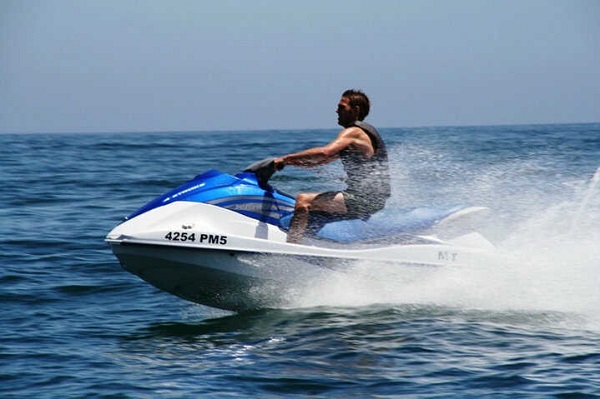 Jet Skiing
If you consider yourself to be a bit of a thrill seeker, then you must give jet skiing a go. These water vehicles are very easy to get to grips with and will give you a huge adrenaline rush. Jet skis are ideal for cruising on the sea or exploring reservoirs and inland lakes. As you are sitting down all of the time, this is the perfect water sport for those looking for a leisurely watersport to try. However, if you have experience with a sit-down jet ski, then you can move on to the stand-up variety, which can be a bit trickier to get to grips with. There are plenty of great locations scattered around the United Kingdom where you can try out jet skiing, but one of the best places has got to be Cornwall thanks to its magnificent beaches. This is one of the more expensive watersports that you can try, but it is definitely worth the money.
Flyboarding
This is the biggest craze in watersports at the moment and you can now try it out for yourself in the United Kingdom. This watersport was made popular by Franky Zapata, a jet ski champion, when a video of him flying over the water on some type of machine went viral. Those who saw the video got an urge to go and try it out for themselves. A flyboard might look like something from a science fiction film, but they are pretty simple pieces of technology. The boots suck in water and propel it out at such a velocity that the person wearing them is sent soaring out of the water at heights of up to ten metres. This is definitely one of the most entertaining watersports that you can partake in.